Dokkin Time Tripmanga seriesby Nekobe Neko images and info. Part of a diverse shoujo anime, manga, video gaming, and live-action Japanese drama website.
Dokkin Time Trip
"Dokkin Time Trip" is a very cute manga about a junior high school girl who meets a young boy that has dinosaurs in his room! By Nekobe Neko (Kingyo Chuuihou!, Airin Dream, Norotte Akko-chan, Dokodemo Hamster), and ran in the manga magazine Nakayosi.
| | | |
| --- | --- | --- |
| Manga - 1 volume | Dokkin Time Trip | by Nekobe Neko |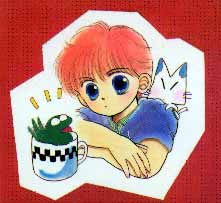 Story Intro
"O God, O Star," prays Shiharu, looking out of her bedroom window into the night sky, "I believe that there is one special person of my destiny.... please, let us meet soon." Sitting on her bed, she sheepishly sticks her tongue out at Piiko, her chick, feeling a bit silly. Just then, a sudden explosion is heard from somewhere out in the neighborhood. Shiharu tumbles off the bed, completely puzzled.

On her way to school the next morning Shiharu sees a young boy calling to a tree. His cat, Mia, is stuck on a bough, too high above his head for him to reach. Shiharu quickly fetches the cat and he thanks her.

"Do you live around here?" Shiharu asks. He gives an affirmative, and Shiharu wonders why she didn't know she had a neighbor like him before. But now she's late for class, so she leaves quickly, accidentally dropping her wallet. The boy picks it up. "Sasaki Shiharu", he reads. " Shiharu..." Then his eyes widen as he notices a photo of a nice-looking boy in the wallet.

Shiharu joins a club at school with her two best friends, Akiyo and Midori. Kurematsu-senpai, the cool guy they all have a crush on (whose picture Shiharu stores in her wallet) is joining too. Meanwhile, the young boy runs through the school halls, wallet in hand. After recognizing Kurematsu, he finds his way to Shiharu to return it. Akiyo and Midori are very impressed with his thoughtfulness and polite manner. His name is Tokieda Takayuki.

Takayuki decides to stay and sit through class with the girls, but ends up showing the wacky teacher, who is giving a lesson on dinosaurs and sketching them on the chalkboard, what the creatures really look like by erasing and re-drawing the pictures himself. Takayuki proudly tells Shiharu that his room has lots of dinosaurs in it. "Yeah, yeah, "Shiharu agrees, laughing.

Well, on visiting Takayuki's house, Shiharu allows him to lead her to his bedroom. When he opens the door she sees an entire landscape streaching out before her filled with dinosaurs! After the initial shock (and a scolding for Takayuki by his older brother), Shiharu finds out that their father is a slightly crazy but well-meaning scientist who has set up a time portal in his house.

The story goes on to show the mishaps and adventures Shiharu and Takayuki find themselves in. Shiharu thinks Takayuki is kind of a pest since he follows her everywhere and likes to joke with her, but deep down she cares about him. When they find out a representative of the Time Patrol is spying on them, they want to band together to keep their dinosaur friends a secret.

If you love cuteness, you cannot miss this charming story. It's perfect for anyone who enjoys kawaii!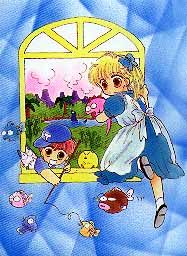 Back to Home
Information © copyright by Stephanie
This page was updated on March 2, 2001 by Stephanie
This page was created on March 20, 2000 by Stephanie