I€O€N manga series by Tanemura Arina images and info. Part of a diverse shoujo anime, manga, video gaming, and live-action Japanese drama website.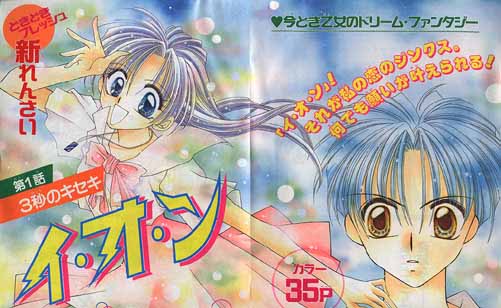 I€O€N
"I€O€N" is an original take on the mahou shoujo idea by Tanemura Arina (Kamikaze Kaitou Jeanne, Time Stranger Kyoko), which ran in the manga magazine Ribon.
| | | |
| --- | --- | --- |
| Manga - 1 volume | I€O€N | by Tanemura Arina |
Go to I€O€N Image Gallery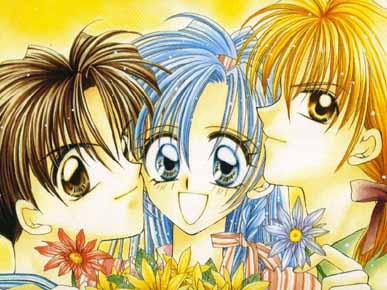 Story Intro
One day while Ion is trying to get away from the bothersome class president, Seito (who is forever telling her how cute and pretty she is and wanting to be her boyfriend), she literally falls into the lap of her classmate Hourai. She hadn't known him very well previously, but Ion decides to call Hourai by his first name, Mikado, even though this is not usually done in Japanese schools. She soon discovers that she really likes Mikado's company, and of course he's really good-looking too.

Mikado checks out a small shed containing the Super Powers Investigation Club's project, but he tells Ion not to go inside. After he leaves, of course, Ion goes in. =p She notices a beaker of solution sitting on a table. Suspended in it is a small piece of strange metal. Ion picks it up and suddenly electric energy fills the room. Ion opens her eyes and sees she's flying into the air! At first she is pretty excited, but the building lights up in flames! Floating aimlessly, she spots Mikado and calls to him in desperation. Mikado listens as she quickly explains what happened, and tells her that it will be alright.... Ion posesses telekinetic powers now. Mikado instructs Ion to make the water from the swimming pool float to put out the fire. Ion isn't sure she can do it, but she raises her arm and splashes a wave of water at the shed.

Ion's best friend Kiyo says Mikado's head is always full of science, so he wouldn't be in love with her, despite his declaration to Ion: "I want you." Kiyo thinks Mikado wants Ion to be his new experiment since the last one was ruined.... Ion doesn't want to believe this. What does Mikado really feel?

This completely enjoyable story goes on to show what other escapades Ion gets into and how she gets out of them, and finds a beautiful romance.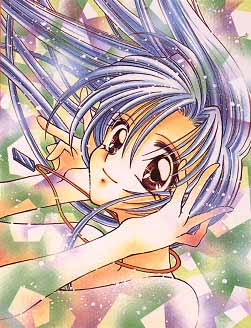 Go to I€O€N Image Gallery
Back to Home
Information © copyright by Stephanie
This page was updated on March 3, 2001 by Stephanie
This page was created on September 14, 1999 by Stephanie