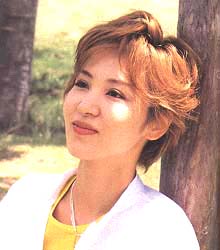 Yumeki Noa
Pronouce: yuu-meh-kee, noh-ah
Meaning: sparkling dream,
Nickname: Nettan
Debut: 1992
Troupe: Star (Hoshigumi)
Noa is an accomplished dancer, lithe and energetic. Her acting is engaging. If she plays a villian character, you'll really dislike him! Offstage, she's cute and playful, and her natural voice has a frank, friendly sound. Noa's likeableness makes me want to see more and more of her.