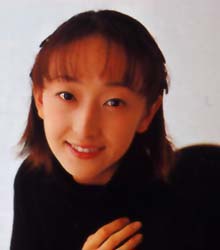 Hanafusa Mari
Pronouce: hah-nah-fuu-sah, mah-ree
Meaning: cluster of flowers,
Nickname: Hana
Debut: 1991
Troupe: Cosmos (Soragumi)
Where to begin? Mari is the best musumeyaku and one of the best performers that Takarazuka's ever seen. Being an exceptional actress, she can convincingly play characters completely unlike herself! She has such a wide range in acting, and makes you believe each role is a real person. She can be an innocent young girl; an aging, world-weary empress; a haughty noblewoman; a gypsy wrought with emotion. I love how she can cry, even more than once in a single show, and it feels real. Mari is a stunning dancer! Flexibility and discipline allows her to master difficult poses and fluid moves. Her singing is second only to Aya.